Whole or Split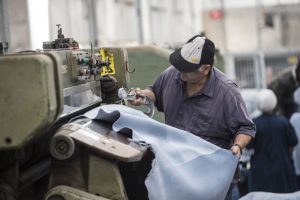 The wet-blue leather consists in transforming raw skins to tanned leather through a chemical process with chromium. It can be divided into thinner layers or left as is with its original thickness.
Drop Fleshings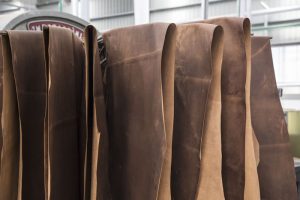 Refers to the fleshing of bovine meat tanned with chrome. This type of leather acts as protection in mechanical labor when exposed to radiation and projection of incandescent particles typical of welding processes, oxyfuel, plasma work, or other activities that involve exposure to contact or radiation burns.
Back Fleshings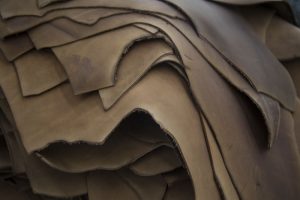 Refers to the leather from the back part, which remains after separating the neck and belly. Its tanning is of high caliber. It can be used as soles in the footwear industry. There is also the plushed back leather, which refers to finished leathers with a velvety plush on the meat side. There is also the back leather for belts, selected bovine leather, which has been specially tanned, greased and marinated, to obtain a resistant and flexible leather, with minimum elongation to traction, suitable for the manufacture of transmission belts.
Head Fleshings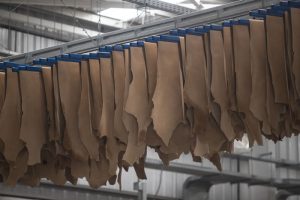 Corresponds to the front of the animal, near the neck and head. Due to its wrinkles and its irregular thickness it is inexpensive, but good results can be achieved.
Furniture and automotive upholstery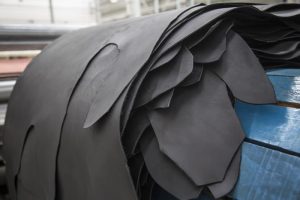 Furniture and automotive upholstery leather must be manufactured with selected pieces of whole leathers. This allows for better use of the area in cutting tasks, greatly reducing waste. For the automotive upholstery, a uniform leather with an adequate break is manufactured. Color and the engraving of leather for automotive upholstery presents uniform characteristics in each piece and in the set of pieces that make up a batch or order of production.
Footwear, leather goods, and clothing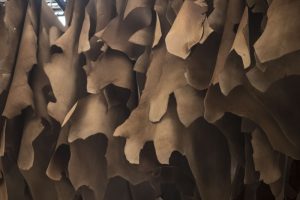 Whole and thick leathers are exclusive for this type of products. Leather for clothing must have very particular characteristics such as softness, thickness, and very low weight. For footwear, leather must be more resistant. And for making various leather goods, it must have special characteristics, such as complete pieces of a different thicknesses.
Waterproof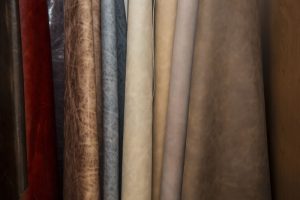 Waterproof leather is obtained processing tanned leather in a drum heated with hot air. Once the leather dries or is slightly damp, it is greased, obtaining waterproof leather. This type of leather is mainly used in the manufacture of safety footwear.
Pull-Up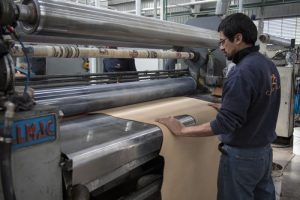 Pull-up leather is a whole-grain leather of light color. Oil is applied in its finish to darken the surface. This treatment will produce a double tone when exerting pressure or folding the leather.
Nobuck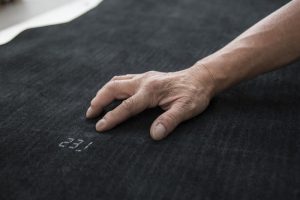 Nubuck leather is a cowhide leather, with a soft and satin feel. It is similar to suede in its silky texture. However, it differs because suede comes from the inner part of the hide, while nubuck comes from the outer surface. This makes it a more flexible and strong leather.
Nappa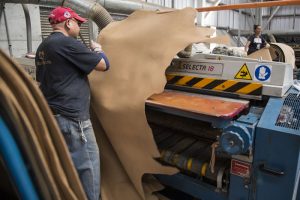 Nappa leather is a special type of fine smooth leather. Nappa leather is the common term to refer to smooth leather tanned by chrome, especially soft and made from all kinds of animals and for all uses. It can be divided by natural, slightly pigmented, pigmented, and polished. Natural nappa leather, also known as aniline leather, has open pores and is dyed with aniline dye.
Hignifugal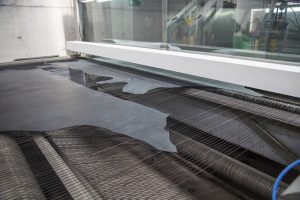 Hignifugal leather is a type of leather exposed to a treatment that prevents the spread of fire. Its main characteristic is that this resistance to fire remains unchanged with the passage of time. It is used in aircraft and automobile upholstery, personal protective equipment such as gloves, overalls, and safety clothing.
Suede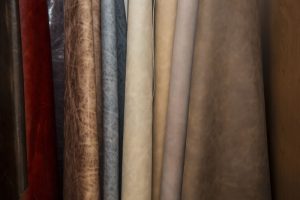 Suede leather is a marinated and tanned leather. With a velvety touch, thin and delicate. The suede comes from the inside part of smaller animals' hide, such as lamb or goat. This makes it much softer to the touch and much more delicate. Generally, these leathers are used to make gloves, garments, and various objects.
Fashion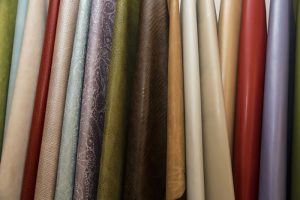 These leathers refer to fashion trends, such as ricchiatto patent leather, metallic leathers, aged leathers, prints, and semi aniline nappa.
Crazy Horse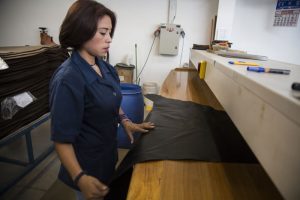 Crazy Horse is a type of leather finish, which consists of applying wax to the leather, generally over a polished surface. This will give the leather an old or vintage effect.